NYC Diaries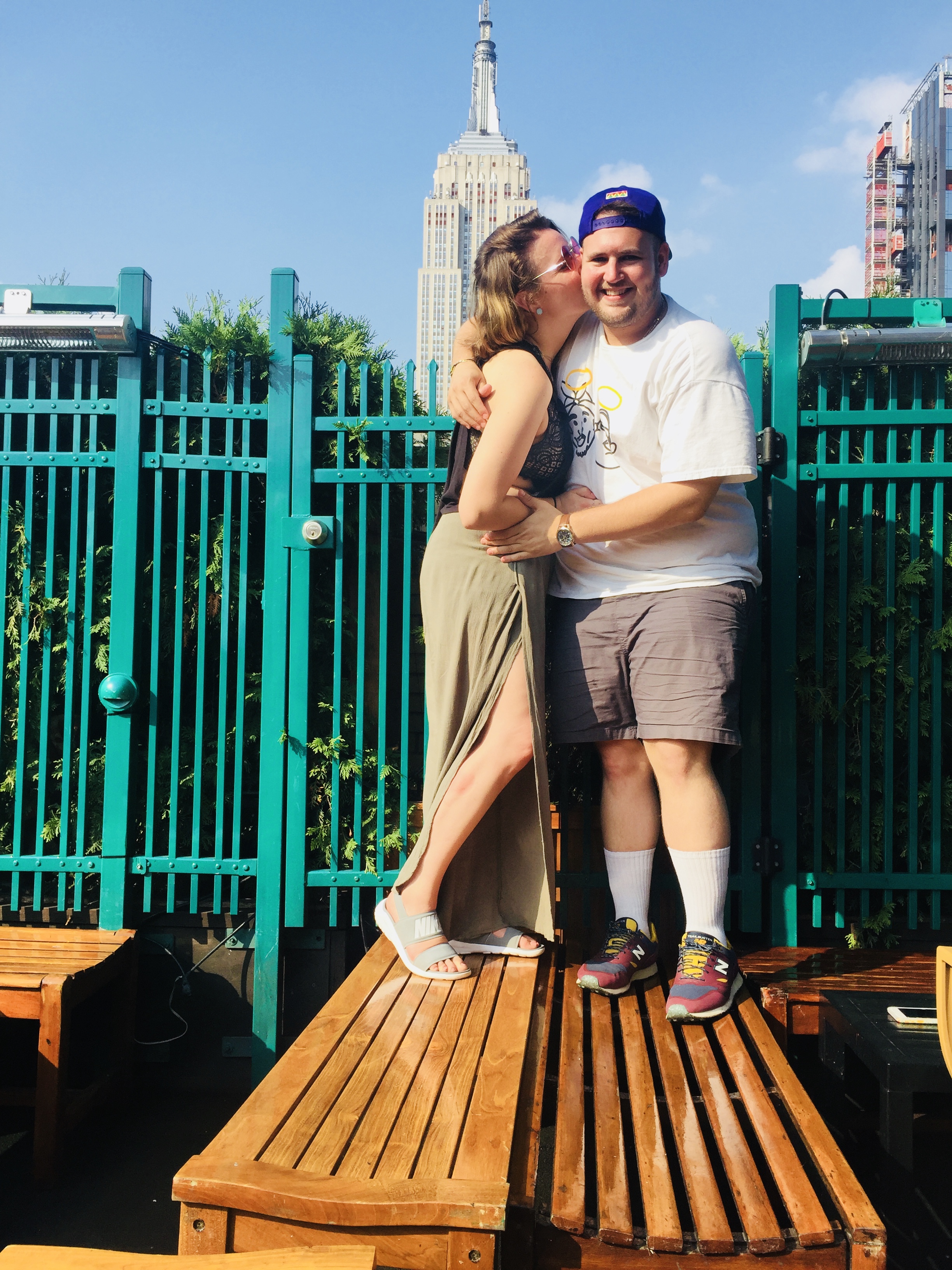 4:30am. The alarm is going off but my eyes are already open. I am too excited for the adventures to come to be able to sleep. You see, there is a lot of unnecessary pressure being put on this trip because my boyfriend Jonathan has never been to New York City. I guess the pressure is only due to the fact that I want him to fall in love with New York just as I did when I first visited 16 years ago. 
On the entire flight to LaGuardia, all I could think about was Jonathan reminding me to use this trip to picture myself living in a city as big as NYC. I was smiling inside because I knew that while he was second guessing that I would find happiness in New York City, I have known all along; NYC took a part of me when I was 11 and has been holding onto it since.
Once we got settled at my best friend's Brooklyn apartment, we hit the ground running. A couple mimosas later, I found myself in the heart of Manhattan, once again in complete awe of the hustle around me. 
Monday may have easily been one of the longest days of my life, but being in New York gave a sense of renewed energy (and thankfully at about 10pm, a second wind).
Monday's route:
1.    Beer Authority (Times Square)
2.    Rose´ Wine Mansion (Midtown) 
3.    230 Fifth Rooftop Bar (Flatiron District)
4.    Trattoria Spaghetto (Greenwich Village)
5.    The Four Faced Liar (Greenwich Village):
The second day of our trip called for some much-needed R&R. After indulging in some pastries from a local Carribbean bakery, we packed our cooler full of goodies and headed to Prospect Park, a slightly-smaller-than-Central park located in the heart of Brooklyn.
I had never experienced the calmer side of the city—the side filled with grassy areas and quiet spaces to focus on your thoughts—so, this was new to me. But, it was incredible. We walked until we found a sprawling, hardly-populated field full of sun and trees, and set up shop. 
We found ourselves in the same spot for hours, deep in conversation, losing track of time and the city outside of the park's borders. But, by dinner time, we felt rejuvenated enough to head out on the town. Of course, "we'll just go out for one drink" turned into drinking many more than that, and soon I found myself deep in conversation with Jonathan, talking about our future. 
"You look so incredibly happy here!" Jonathan told me. "I was nervous coming here knowing that you wanted to live in the city because I thought you were in love with the idea of New York. But, now I see that the city just changes you. I can see it makes you happy."
The rest of the night was filled with fantasizing about the future. Could we have just decided on our future home? Only time will tell.
Tuesday's Route:
1.    Allan's Bakery (Prospect Lefferts Gardens)
2.    Prospect Park (Brooklyn)
3.    ZuriLee Pizza (Flatbush)
4.    The Zombie House (Flatbush)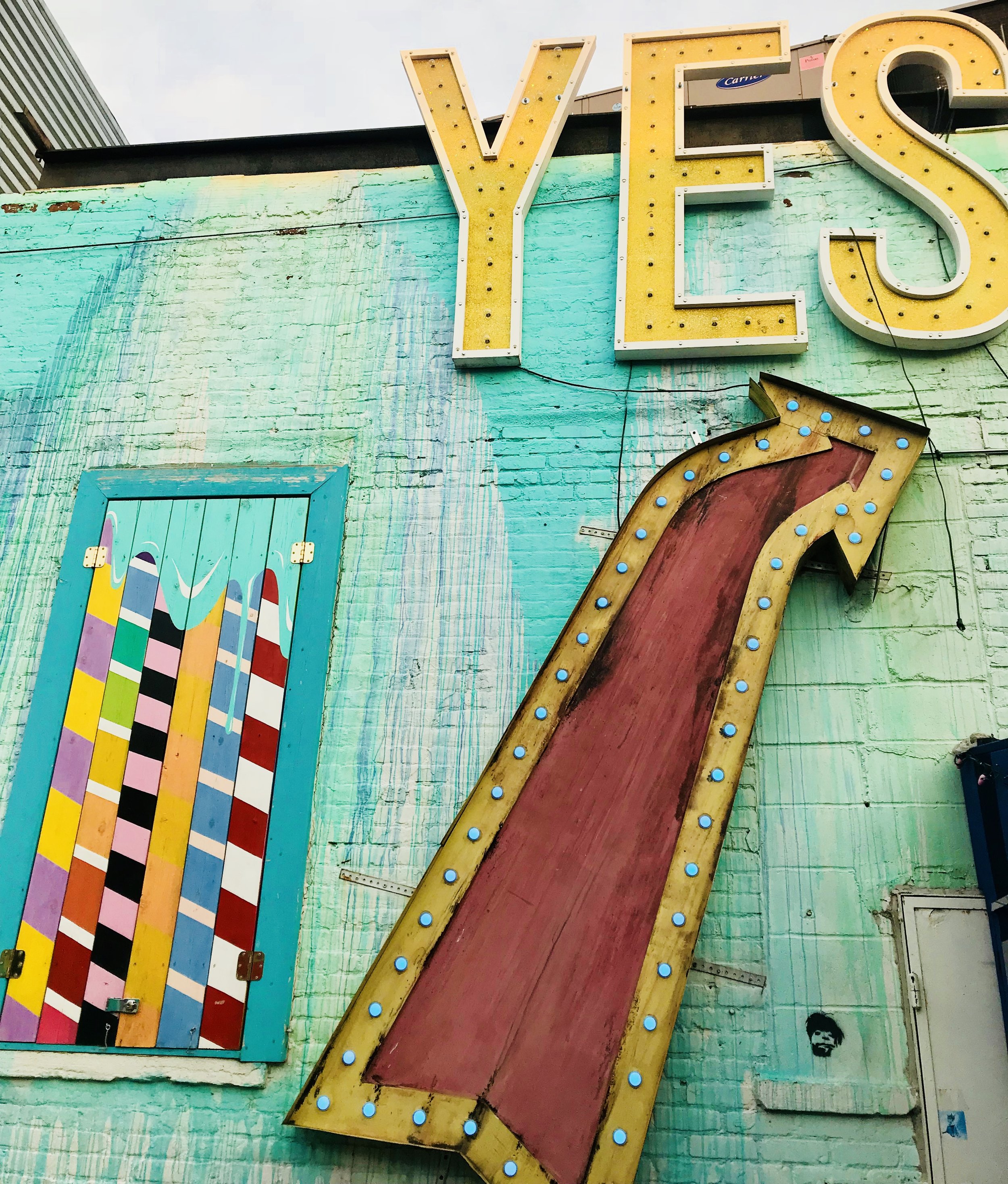 Wednesday, August 8, 2018
Welp, the day started off a bit slower than planned. Remember last night when "just one drink" turned into many more? Yeah, well you can guess what state that put me in on Wednesday.
Once I was finally vertical and feeling a tad bit better, we took a cab to Chinatown and ate at the most unsuspecting dumpling house on the block (if you are anywhere near the vicinity of Manhattan, do yourself a favor and go to Joe's Shanghai). The place was packed to the brim with guests, but we were quickly seated at a table. At Joe's, I had my first encounter with soup dumplings, delicate steamed buns filled with broth and meat, and I have been dreaming about them since. 
When our time in Chinatown ended, we headed to its neighboring district, Little Italy. After some Italian coffee (we were too full for a cannoli!), we wandered into a random, quiet bar with a gracious happy hour. 
Story time
Before I left for NYC, my uncle told me that there was a little hole-in-the-wall Italian restaurant with something funny on the celling that had to do with a rope and light bulbs, but he wouldn't give me any more details. To tell you the truth, there are so many amazing places to visit that I did not want to put pressure on ourselves to go anywhere specific, but to our surprise, we accidentally found ourselves in the bar he recommended, anyway. While I was staring at the plastic vines and grapes that covered the ceiling of the bar, my eyes couldn't help but to notice exactly what my uncle must have been talking about (picture for reference below). Just imagine the bulbs lighting up when you pull the string, and, well, you get the jist.
My Favorite Part of the Trip
We left Little Italy and cabbed our way back to Brooklyn to attend a burlesque show on one of Brooklyn's most sought-out stages: House of Yes. Upon arrival, we were quickly swept away by the fabulousness of the culture and scene around us. House of Yes is a place where people can just come and be (imagine this…) themselves! According to their website, House of Yes is dedicated to providing freedom from judgement, fear, racism, sexism, and all forms of discrimination. It is a safe space for celebration and self-expression, and it was exactly that. We were surrounded by people from all walks of life but everyone was equal. And that, my friends, is what New York City is all about.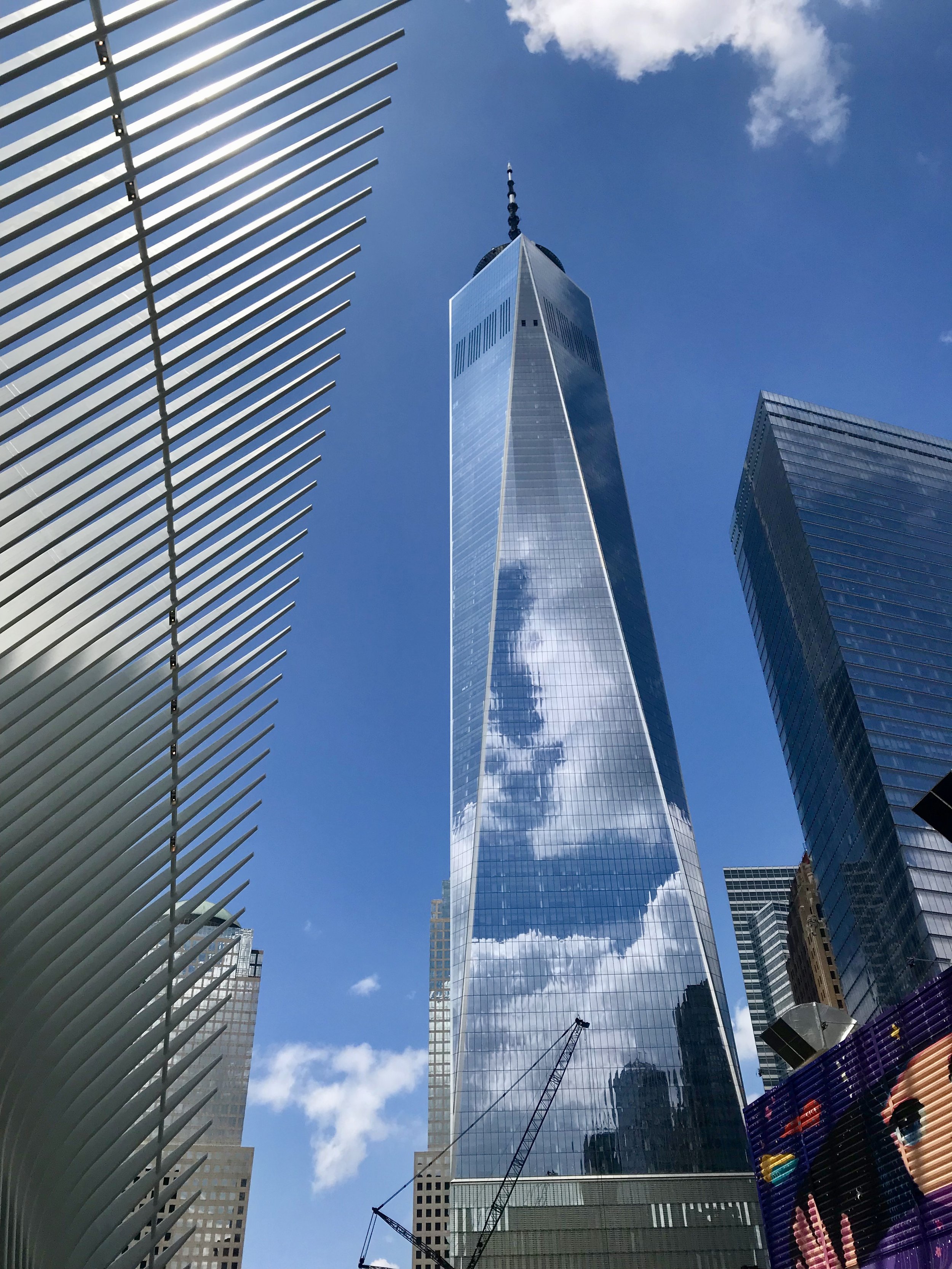 Today was exciting because while we had a few ideas about places we would like to see, we had no set plans aside from starting our morning at the 9/11 Memorial. The last time that I visited this area of New York was only a year after September 11th, 2001, when I was 12. 
In 2002, the area looked much different than it did today, and that was emotional in itself. 16 years ago, there were still steel fences lining the mounds of rubble that were left from where the Twin Towers had fallen to the ground. There was a makeshift memorial set up on the outside of the gates and you could look up to still see the damage to the surrounding buildings. These were the images left in my mind.
Tears welled in my eyes as I walked towards the breathtaking fountains that took place of the rubble I had seen all those years ago. The names on the makeshift memorial had been given proper recognition on gorgeous marble tablets that outlined the new memorials—the fountains that took the place of the buildings that once defined New York's skyline. An eerie feeling came over me as I compared the two images in my head. I was proud of New York for rebuilding their city so beautifully during a period of mourning and I was blown away by the courage of the men and women that continued on with their life in spite of the pain.
"This is the city of dreamers and time and again it's the place where the greatest dream of all, the American dream, has been tested and has triumphed." – Michael Bloomberg
The rest of our day was spent walking, in true New York fashion, and bopping around from neighborhood to neighborhood (from the Financial District to Union Square, to be exact!). We popped in and out of high-end stores, pretending that we had money, and giggling at the thought of actually being able to spend $4,000 on an item of clothing. "I'll buy you that dress one day," Jonathan said. And I believed him. 
Thursday's Route:
1.    9/11 Memorial (Financial District)
2.    Serafina Tribeca (Tribeca)
3.    BaoHaus (Gramercy Park)
4.    O'Hanlons (Gramercy Park)
Throughout the entire trip, we were both absolutely giddy thinking about living our lives here. It feels good to narrow down the list of the places we would want to call home after Jonathan graduates from business school and it is time to leave Cleveland. 
Nothing is for certain, and everything will happen for a reason. But there are a few things that are clear right now: New York City rejuvenated me and I am glad that is at the top of our list.
xoxo, Lindy